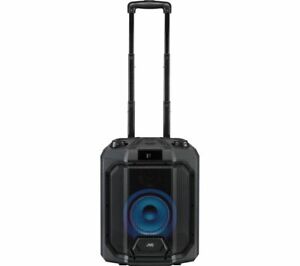 Features
Sound enhancement: Bass boost
Model: MX-D719PB Portable Bluetooth Speaker - Black
Inputs: - Aux-in x 1 - Guitar-in x 1
MPN: MX-D719PB
Power options: - Mains - Rechargeable battery
Box contents: - JVC MX-D719PB Portable Bluetooth Speaker - Power cord
Speaker sound level: 105 dB
Dimensions: 436 x 336 x 270 mm (H x W x D)
Frequency: 45 - 20,000 Hz
Weight: 7.14 kg
WiFi: No
Manufacturer's guarantee: 1 year
Power consumption: - On-mode: 50 W - Standby:
Height (mm): 436
Presets: - Flat - Funk - Jazz - Rock - Samba
Width (mm): 336
Auto tuning: Yes
Depth (mm): 270
Radio: FM: 87.5 - 108 MHz
Weight Grams: 7140
Output power: - Peak: 105 W - RMS: 50 W
Colour: Black
Lighting effects: Flashing LED lights
Type: Portable speaker
Supported file formats: MP3
Other features: - Karaoke function - Trolley handle and wheels
Speaker unit: - 5 cm tweeter x 1 - 16.5 cm subwoofer x 1
Amplifier: Integrated class D digital amplifier
Channels: 1.0
Battery Life: Up to 12 hours
Auto standby / power off mode: Yes
Impedance: 4 Ohms
USB for playback: USB 2.0 x 1
Bluetooth: Bluetooth 4.2
EAN: 4975769461316
User reviews
Positives: Sound is excellent & guitar port can be used for a second microphone if you fancy a bit of karaoke! Controls are easy to use & the bass booster almost doubles the volume. Bluetooth connection is easy. Negatives: Battery does not last anywhere near the advertised 14hrs but we did use it on high volume, lasted around an hour before it had to be plugged into the mains, no choices on auto radio station tuning. Overall pretty good for the cost.
Good quality, well made and really practical. Decent sound, surprisingly powerful for a 50W RMS, almost purpose designed for garden barbecues, small beach parties or street busking. Saying that, don't expect quite top shelf quality and you won't be disappointed. The BT connection reliability is about average and the single speaker format is never the best way to go in terms of sound quality; the bass is overwhelming the entire scene at times, compromising the roundness of the sound and somewhat interfering with the listening experience, but it wasn't built to be a home cinema, so you might dismiss the above comment as being picky. In fairness though, it's a pleasant, user friendly product addressed to those looking for value for money, because that is what is reliably delivered here.
Great sound bags of volume and battery life is astonishing worth every penny highly recommended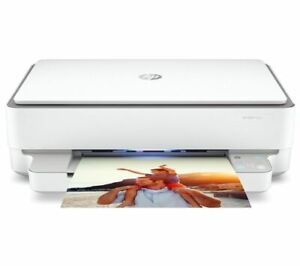 HP ENVY 6032 All in One Wireless Inkjet Printer WiFi Double Sided - Currys
Features
Automatic document feeder: No
Connectivity: USB 2.0
Monthly duty cycle: Recommended: 50-100 pages per month
Scanning Resolution: 1200x1200 DPI
Other printer features: Contains more than 20 % recycled plastic
MPN: 5SE19BBHC
Pages per minute (colour): Up to 7 ppm (ISO)
Average compatible cartridge yield: - Black: 120 - Tri-colour: 100
Dimensions: 132.1 x 432.5 x 361.1 mm (H x W x D)
Double-sided printing: Automatic
Weight: 5.22 kg
Compatible cartridges: - Black: 3YM61AE HP 305 - Tri-colour: 3YM60AE HP 305
Height (mm): 132.1
Print resolution: Black: 1200 x 1200 dpi Colour: 4800 x 1200 dpi
Width (mm): 432.5
Pages per minute (black & white): Up to 10 ppm (ISO)
Depth (mm): 361.1
Page format: -A4 -A5 -A6 -B5 -Envelope (C6, DL, B5)
Weight Grams: 5220
Software included: HP Printer Software
Colour: White & grey
System requirements: - Windows 7 & 10 - MacOS 10.12 (Sierra) or later
Type: Home printer
Display: CP decorative without LCD display
Manufacturer's guarantee: 1 year
Print technology: Inkjet
App available: HP Smart App
Function: - Print - Copy - Scan
Wireless connectivity: -Wi-Fi -Apple AirPrint
Colour Depth: 24 bit
Wired connectivity: USB 2.0
Type of scanner: Colour flatbed scanner
Paper tray capacity: 100 sheets
Scan resolution: 1200 x 1200 dpi
EAN: 194721022004
Description
About this product Product Identifiers Brand HP MPN 5SE19B#BHC EAN 0194721022004 eBay Product ID (ePID) 9040526867 Product Key Features Connectivity USB 2.0 Scanning Resolution 1200x1200 DPI
User reviews
It is great value for money and relatively easy to set up. Having to download the HP apps & plug ins is a slightly frustrating and there were a few hiccups trying to connect the printer to the network and load the first cartridges. Being technically astute I was able to overcome these minor teething problems, but someone who is a "digital dinosaur" may struggle a bit. But aside from that I am very impressed with the product over all and it is small and compact and provides good print quality. I am glad I bought this product.
I found the actual setting up of the printer was fairly easy. Not too much of a problem there. And it was easy to get it to print and copy documents. The problem I found was using it to scan documents to my laptop, ready to attach as files to an email. The only way I could find out how to do it was by going onto YouTube tutorials. After watching a few I was eventually able to do it from my laptop but found it wasn't possible to save the documents as PDF files, which was what I needed. The only way of doing that was for me to download the HP Smart app onto my mobile and carry out the scan from there. Not my ideal way of doing it at all.
HP printers are some of the top end printers, and having tried other brands I always seem to circle back to HP. The HP Envy 6020 is no exception. It is a fantastic printer that is perfect for home and business establishments. The printer arrived in the easy recognisable packaging of HP and simplistic instructions aided the set up of the machine from varying devices such as your laptop or apple/android phone via the HP application with no problems whatsoever. The printer itself is sleek, stylish and simplistic to use. The buttons only become visible as and when you require them. Modern technology enables you to access the printer from anywhere with the HP app when out and about, so if you remember you have documents to print or you find a supporting article or even just your kids homework, a couple of taps on your phone and the printer will do the rest. AirPrint is also an option with Apple devices so it saves you loading the HP app where necessary but you do have to be near the printer for this to be an option and work successfully. Instant Ink is a joy. The new ink being used saves you up to 70% on the ink and you can never run out. The ink is smartly used during printing, and is closely monitored by the printer which communicates to the HP app to let you know when the ink levels are getting low and will reorder you to correct ink without you asking depending on which ink and payment plan you have selected. The plans are great value and affordable for all. The printing of documents and articles can be a pain when you want double sided printing and you have to flip the paper to print on the other side but not always successful right? Well this is no longer a thing with this printer. It offers automatic double sided printing so the pages are always orientated right and never have to worry about pages being flipped or skewed. It is ideal for students or business establishments. Saves on paper too! -- The paper is stored in a tray out of sight underneath the printer so it looks tidier and sleeker for all. Regarding print speed the printer can release 10 black and white pages and 7 colour pages per minute. This is great speed when compared to other printers - it is leading the printer technology way. During printing it is very very quiet, you can forget that you have printed something because the machines operate on more of a hum rather than the loud printing you hear from older generations. Overall this is a fantastic printer that i would totally recommend, that saves you money through ink and paper due to double siding. It is a printer that is paving the way for more revolutionary things to come. It is sleek, stylish and modern with a dual personality for work and home - what more could you want.
I am a huge fan of HP printers and having tried most of the competition, I always go back to HP as nothing comes close. This printer is no exception. I was looking to upgrade from my printer that could only print to an all-in-one option that can copy and scan as I run a home business and needed to scan in some invoices. This was the perfect option as it can do everything that I want from a printer and does it really well. It is completely wireless and I can print and scan to and from my computer, phone or tablet and it was really simple to setup with the HP app. I also use it to print business materials like business cards and flyers and it produces results that match a lot of professional printers out there and can even do photos as good as you could get professionally printed. The instant ink option makes it a no brainer it makes printing really cheap and easy and I can print a high quality colour photo for the same price as some black and white text so it makes me want to use the printer a lot more without worrying about ink usage or cost.
As a home printer this really is the perfect little addition. The set-up was super simple!!! You can do it all via the HP Smart App which has step-by-step instructions, it's really handy and simple to use. I love you can connect and print wirelessly (although you can connect via a cable too). I print mostly from my phone or tablet and love it works with Apple AirPrint so my phone automatically links in with the HP Envy for printing. There's the neat addition of coloured lights as well as sound notifications when printing is complete. Very snazzy! The print quality is good, I love that you can print double sided, beats manually flipping the page over and saves paper! Speaking of paper, it has a little storage tray underneath, so no more feeding from the top, another win! I've linked it up with Instant Ink, I opted for the cheapest option to get going at 50 page allowance per month it costs £1.99 a month. Unused pages (to a limit) get carried over too which is fab! It certainly saves trying to find the right ink, the printer has already ordered my next batch delivered straight to my door, and it sounds pretty cost effective! Overall, I'd definitely recommend this as a home printer, perfect for the whole family.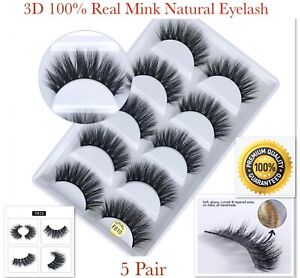 💙NEW 5Pair 3D Mink False Eyelashes Wispy Cross Long Thick Soft Fake Eye Lashes
Features
Size: Travel
Features: Cruelty-free/No Animal Testing, Long Lasting, 3D, Formaldehyde-Free, Handmade, Reusable
Country/Region of Manufacture: Unknown
MPN: 5060309125236
Shade: Black
Effect: Natural
Formulation: Cream
Volume: 20 ml
Product Line: Everestbeauty
Period After Opening (PAO): 20mm
Scent: Unscented
Lash Length: Long
Type: Mink Eyelashes
EAN: 074764650122
User reviews
I have always brought eyelure lashes but after watching numerous reviews on these I nervously purchased Tuesday night I received them Thursday morning !! They are unreal! Best eyelashes ever perfect length look so pretty compliment the eye but not in your face just perfect ! You'd be silly not to buy these 😁
Whilst these are what I ordered, I wasnt expecting them to be quite so long. They arent as soft as the mink I have had before and I would question what they are made of. My last mink lashes were so soft you could hardly feel them. These are definitely thicker and quite hard in comparison. However, they were cheap so what can I expect? I would say they are great for a night out but I wanted daytime lashes and they are too long for my purpose. The length is great if you are young and clubbing but Im not. Iv'e said I wouldnt recommend but I would if you are young. Im 60 and wear lashes every day. So it all depends on your requirements. They are great value if you arent looking for soft mink. Quality? I would say good but not what I expected.
if you want a great look get these lashes great value and easy to use and look great with any eye colour, I use lots of different lashes but I find these ones , one of my favourites light weight and looks fabulous and I am going to surprise you, as I have done hairdressing and makeup, as I do say so myself am very good at it, I have been using lashes for 2 years and no one I know does bottom lashes, so I decided to try myself and so I turned them downwards trimmed them up and put the glue on the inner , just a small bit and with the ones on top they look fantastc
Thank you received the package on time love these lashes for my daughter in law only ones age will use now will definitely ordering again
After having tried several brands that do false lashes, this one is definitely my favorite. Demi wispies are very lightweight, dense and long but nothing overly dramatic. I also like the fact that they set on a clear band, thus making them suitable for all looks.